---
Wil jij meer spirit in je teams? Wil je betere samenwerking om FANTASTISCHE resultaten neer te zetten? Maak dan gebruik van ons eenvoudige & krachtige concept om met je team een jaar aan de slag te gaan waarbij PLEZIER en PRESTATIE samengaan.
Stel je eens voor: Hoe zou jouw team erover één jaar uit kunnen zien wanneer je focus, alignment en inspiratie samenvoegt en maandelijks kort wordt begeleid om jullie bij te sturen? Wij staan voor een jaar vol doorbraken!
Wij worden vaak gevraagd voor:
Teambuilding on the job
Verkoopdoorbraken
Stressverlaging / reduceren ziekteverzuim
Prestatieverhoging
Intrinsieke motivatie
Cultuurverandering
Strategische planning & implementatie
Wij hebben een krachtig en eenvoudig jaarprogramma voor teams dat bestaat uit:
een workshop van een 1½ dag om een krachtig team te bouwen en een concreet teamplan te formuleren waar iedereen achter staat (op één A4-tje)
een workshop van een ½ dag om individuele ambities te verwerken in individuele plannen
een maandelijks follow up programma van maximaal 4 uur per maand.
In deze sessies creëren wij:
helderheid: over wat er moet gebeuren
focus: op het doel
betrokkenheid: bij de uitvoering en de prestaties
zichtbaar: wie er wat doet met welk resultaat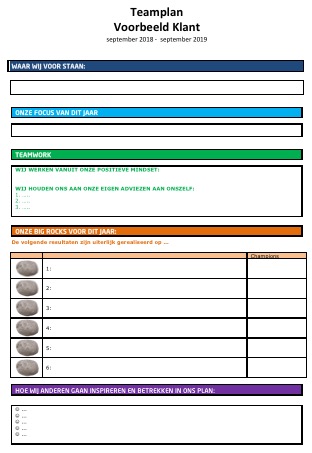 Are you interested in:
- Team development and collaboration
- Increasing performance
- Sales breakthroughs
- Improve employee motivation
- Stress prevention & reduce sick leave
- Organizational transformation, or
- Strategic planning and implementation?
If so, then Spirit in Teams is your programme for alignment and clear results. Spirit in Teams is a year program for quickly achieving significant performance gains inside an organization and team, that positively impacts team collaboration and bottom line results. We continued on our former programme Best Year Yet which we delivered worldwide.
Content day 1:
Knowing yourself
Appreciate the differences between team members
Evaluate, reflect and complete issues
Building trust, handling conflicts and creating commitment
Content day 2:
Ambition and vision
Team alignment and focus
Inspiring goal setting using all our qualities
Next steps: quarterly plan, monthly actions (team and individual level)
Quick wins and keeping the energy up
Inspiring the stakeholders
The one-page plan is produced during the workshop, and all of the deep-seated reasoning behind it, is generated entirely by the participants themselves, which makes them feel owner of the plan, and therefore responsible for the realization of it.
2. FOLLOW UP SESSIONS – RHYTHM OF SUCCESS.
A schedule of structured follow up meetings for a year, ensures the success of the plan created in the team workshop. The follow up meetings are focused on evaluating team performance, achieving interim monthly goals set by the team in support of planned goals for the year. Measured achievement is tracked and reported over the follow-up year, creating "picture over time" of the team's performance. Quarterly "traffic light" reviews identify successes and challenges in realizing the team's overall plan and the theme of next quarter.
After the team workshop – mostly within the first quarter – the Individual Personal Leadership Workshop takes place (1⁄2 day). The process of this is workshop is similar to that of the team workshop and creates for each participant an individual action plan to achieve their personal best year. By doing this the personal goals are aligned with the company or team goals, which stimulate personal commitment and motivation.
3. STAY IN THE ZONE OF EXCELLENCE!
Producing results and great teamwork has to do with managing your emotions and mental state. Too much stress/tension is an obstacle for achieving great results. During the program different tools and techniques will be offered to keep all participants energized and in great shape.
THE POWER OF THE PROGRAM
The power of the program to align people lies in factors that are unique to the team system:
- Simultaneously working on both analytical and emotional levels
- Employs techniques of analytical reasoning in problem identification and problem solving
- Self-motivation. Facilitators only bring the process to the workshop; no 'how to's', no 'to do' lists, no 'habits' to follow.
- Champions sign their name on the final plan next to the goal for which they take responsibility. The plan then becomes a permanent part of the follow up process.
- Aligns people within the group and the group as a whole with key organization initiatives. Internal alignment impacts individuals, the team as a whole and, as the system is cascaded downward, the entire organization.
WHO CAN BENEFIT?
This program is suited for all industries. The program works effectively on all levels of the organization, from executive management team to department-level staff. The process doesn't change. Rather, the person (individual) or people (team) participating automatically adapt the workshop process to their organization, culture, initiatives, challenges.